A Conversation with Kimberly Dick with Autism Speaks
At Camp Southern Ground, our inclusive summer camp model helps children of diverse backgrounds and abilities build empathy, understand differences and celebrate their own strengths by bringing them together. We are fortunate to partner with organizations who support inclusion and believe in our mission; organizations like Autism Speaks, who works tirelessly to increase understanding and acceptance of people with Autism.
Here to discuss the benefits of inclusion is the Area Executive Director of Autism Speaks, Kimberly Dicks. Thank you for joining us!
Please share with us a little your connection to Autism?
In addition to being the Area Executive Director for Autism Speaks, I am also the parent of an autistic teenager.
What does inclusion mean for individuals with Autism?
Inclusion is about offering the same opportunities and activities to everyone while providing supports and services to accommodate people's differences. Inclusion means different things for different people and everyone's experiences.
Why is inclusion so important for children diagnosed with Autism? How do children benefit from participating in extra-curricular activities alongside their neurotypical peers?
Evidence supports the importance and value of inclusion for all. It minimizes stigma, increases social acceptance, build friendships, and gain empathy. Inclusion fosters a culture of respect and belonging and provides opportunity for all for growth and development. Most opportunities previously would focus on specific areas of character development and growth for young people, which makes including people with disabilities a good idea, but also a mission-based responsibility.
What do children with Autism want in a friend?
They want the same thing as their neurotypical peers. Having a common interest or similar passion is what we all look for in friends.
What are common barriers that might present a challenge for individuals with Autism from engaging in inclusive recreation with their peers?
Autism is a spectrum and the barriers to inclusion are different for everyone. Personally, my son found the complex rules of sports and his motor skills to be challenges which made most sports experiences undesirable to him to want to participate. The exact opposite of the experience we wanted to him to have. While we all know the benefits of physical activity for developing strength and endurance, it also creates incredible social engagement opportunities. It took many years and various sports to discover his enjoyment with swimming and cycling.
How does recreation contribute to social inclusion?
Recreation is a great example of a common interest or passion to help build friendships as well as a critical component of social inclusion.
What strategies could be used to promote inclusive recreation with typical peers?
Strategies for a successful inclusive recreation program can vary greatly depending on the program and the individual. For my son's experiences the first strategy was just providing awareness and understanding of autism. Educating those running the programs about autism and specifically the supports that would help my son be successful in participating and how by providing these supports it would ensure everyone would have a positive and rewarding experience.
How can others learn more about including individuals with autism in an authentic way?
Attend training and awareness programs on an ongoing basis, focus on strengths, be flexible, and incorporate modifications that allow for all participants to share activities and experiences.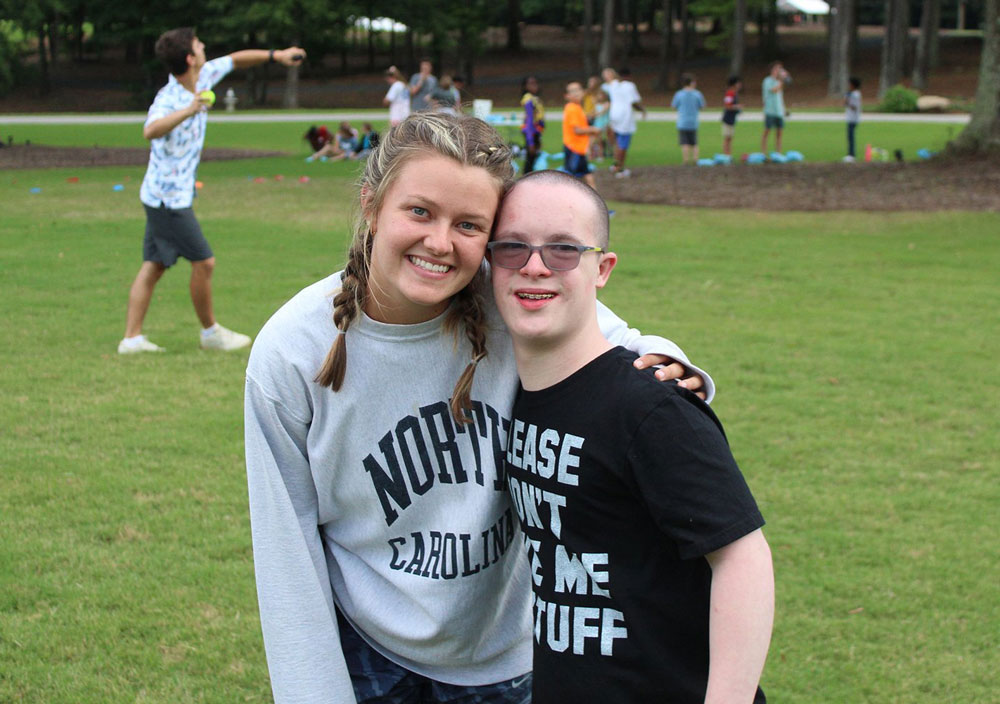 Self-Efficacy and Capability. Self-efficacy is the belief that you are capable of succeeding and persevering if at first you don't succeed. We help teach this through our challenge-by-choice model, which ensures campers choose their level of challenge and are therefore able to define what success looks like. At Camp Southern Ground, we praise campers' efforts, not their abilities, and we nurture the belief that their abilities can change as they develop new strengths. Our staff recognizes that, because they have a line of support, neurodiverse campers may do things they have not otherwise have had the opportunity to do. We want campers to leave camp with the mindset of "I can overcome challenges with support." As one camper said, "If I can climb the 40-foot ropes course, I can definitely overcome the fear of making new friends at school!"
Confidence. Every year, we see kids leave camp with a new sense of pride and the confidence to try new things and meet new people. After they spend time back at home, they stand a little taller and speak more confidently. Camp Southern Ground gives all campers a place to call home and, more importantly, a place they can be independent. Whether your neurodiverse camper is on the Autism Spectrum, has ADHD, or just struggles in social situations, they will make a connection with someone like them and create memories that will stand out in their minds for years to come.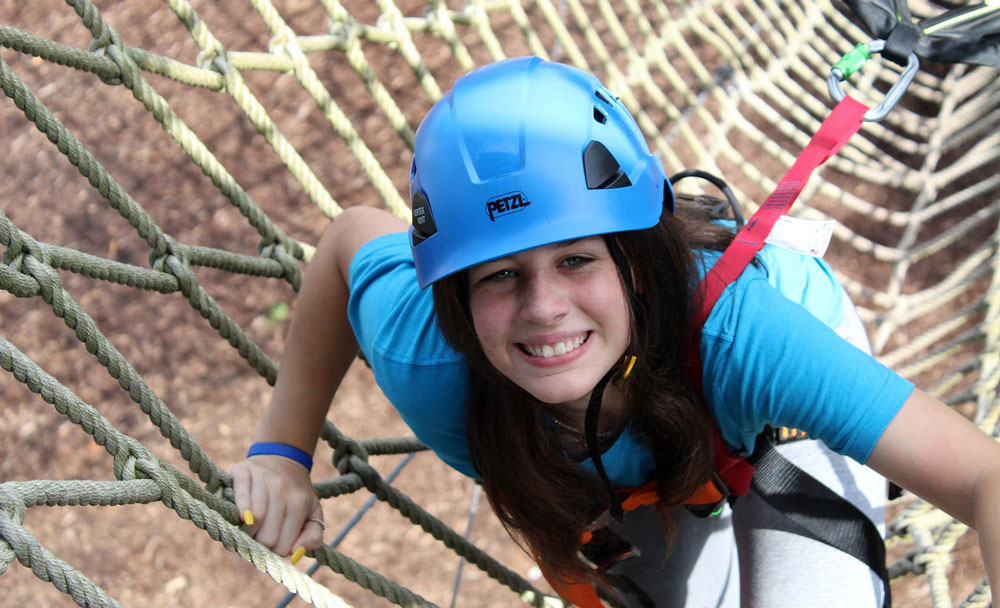 Social Opportunities. Not only may your child learn to ride a bike or play the ukulele for the first time, they will also experience new social opportunities. Neurodiverse campers can struggle to fit in at school because of a lack of social skills, but being in an inclusive and caring environment gives them the chance to learn new social skills from their peers. Some of the intentional opportunities we create for your child to develop social skills include family style meals, conversation prompts during down time, and having emotional check-ins throughout the day to practice putting words with our feelings.
While we are grateful for the opportunity to provide the neurodiverse community a place of acceptance and welcoming, we are equally proud of what our inclusive program is doing for our typically developing campers. Inviting typical peers into a setting where they are receiving the same experience as a child with Autism provides exposure; that immersive look into inclusion immediately creates a level of understanding for others' differences. Along with a view of acceptance, our typically developing campers learn more about equity and fairness, asking for help, and the development of their leadership skills.
Fair is Not Always Equal. We are familiar with a child's definition of fair. However, at Camp Southern Ground, support looks different to every camper and that may not always feel fair. Treating our campers "equally" is only fair if they begin at the same starting point, and that is not the reality when operating with an inclusive model. For us, this may look like a few of our neurodiverse campers in a tribe receiving fidget toys during instruction time because it helps maintain focus. Your typically developing child will spend their time here at camp noticing and observing other campers receiving different layers of accommodations. The typically developing camper may see another camper receive accommodations and extra tools and begin to understand those accommodations are made to support, not to be unfair to everyone else.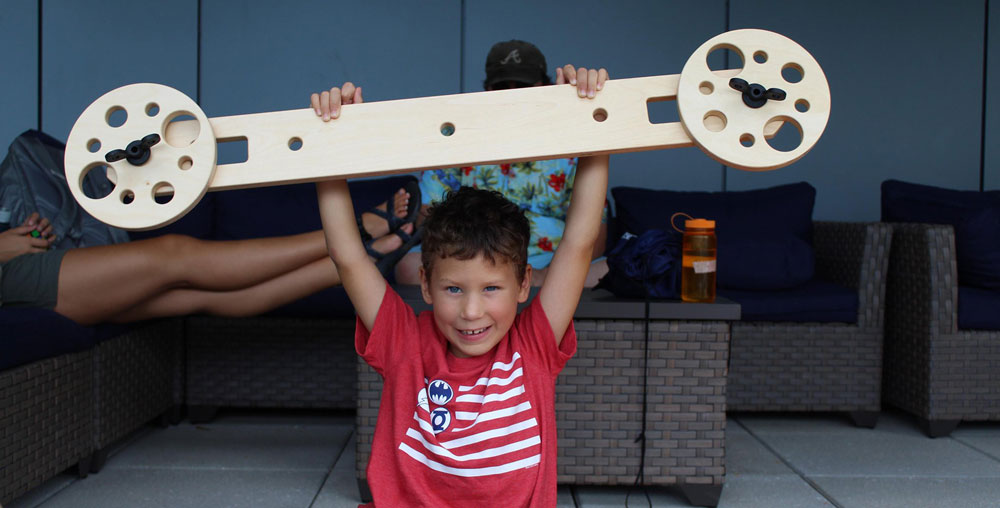 Asking for help is a good thing! Our universal program design allows all campers to experience the same activity in a way that challenges them. We provide a differentiated leveling so that kids can self-select their challenge and, if campers need accommodations, we are there to support. When campers see that other children are receiving support, it gives them a sense of security that they can ask for help as well.
Leadership Skills. We empower our typically developing campers to facilitate inclusive conversations and actions throughout the week. We encourage all of our campers to make sure that everyone feels included. We find that our typically developing campers go out of their way, to make sure those with social challenges feel seen and a part of their tribe. We often see our typically developing campers helping, teaching, and encouraging our neurodiverse campers without prompting. All children gain skills and absorb information throughout daily activities but coming to Camp Southern Ground empowers them to treat others with empathy and love as they become leaders in their communities.
At Camp Southern Ground, we see growth in every camper, whether they are neurodiverse or typically developing. Every camper benefits from our inclusive environment, and we strive to provide an equitable experience for each. Whether your camper is neurodiverse or typically developing, they will leave Camp Southern Ground with strengthened social and emotional skills. We are proud to provide a safe environment for all kids to grow at camp and Camp Southern Ground truly is where goodness grows.