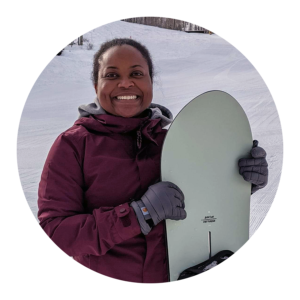 Warriors of Camp Southern Ground
Cecilia Ledford
Cecilia is a Warrior Week alum. She grew up in South Carolina and joined the Marine Corps at 19. This is her story.
I served for four years. Transitioning out of the military was lonely and weird. Eventually, I became a military spouse, and it was odd going from being a service member to a dependent. It took me years to figure out my identity outside of the military, which contributed to the struggle of being what I considered "just" a spouse (which was not the best mindset to have). Also, as a female veteran there was that weird dynamic of having to prove that you've earned a seat at the table so to speak.
I'm finally finding my footing – therapy helped that. I'm so glad cohorts like Warrior Week exist. We still stay in contact (my cohort has monthly zoom meetings). They encouraged me to follow my passions and apply to the Veterans Yoga Project – and I got in! I just graduated from their 200hr Mindful Resilience Yoga Teacher Training in October. Yoga has really helped me – especially the breathwork and meditation, and I'm so grateful that Warrior Week Alumni are able to utilize DDP Yoga. I've found my people here in the Pacific NW. I've also found snowboarding! I'm not great at it, but I love it.
We don't become adults or veterans and just suddenly stop needing people. Surrounding ourselves with people who understand what you went through but are also actively bettering themselves and growing is key. It takes a village, even when you're grown.
WILL YOU HELP US MAKE A DIFFERENCE?
Please consider donating to help more Warriors. Your support today will help us continue to provide the life-changing programs that the improve mental health and wellbeing of veterans and prove critical to their long term success in life.