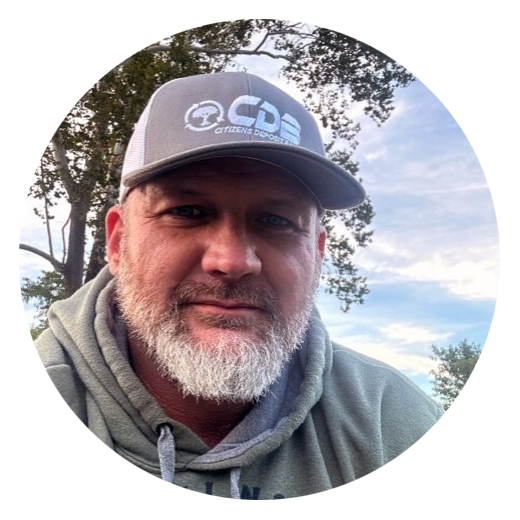 Warriors of Camp Southern Ground
KRIS ARNOLD
Kris joined the Kentucky National Guard at 19. He is a Warrior Week alum. This is his story.
"Never judge someone by the way he looks or a book by the way it's covered; for inside those tattered pages, there's a lot to be discovered."
I was a Military Police Officer in the Kentucky National Guard for six years. I have no pleasant memories about my service. Transitioning was terrible. I [separated from the military] in December 2003 after a year deployment and went straight into law enforcement. I had no education on PTSD (posttraumatic stress disorder), TBI (traumatic brain injury), or toxic exposure. My family was even less informed. I held it all together until my body physically broke down. After I slammed on the brakes, the mental, emotional, and psychological effects of my trauma all started showing themselves.
My faith in our lord and savior Jesus Christ has been the catalyst to my recovery through Warrior Week. Warrior Week gave me the opportunity and support to get my life back. It's a process I work on daily. One of the most beneficial experiences of self-reflection I had at CSG was the Enneagram test. I could finally see other people's view and understand why they view me a certain way. It was absolutely an "ah ha" moment. I must also mention the food – it is amazing! I learned that I have a gluten sensitivity and that knowledge has helped tremendously.
I've recently reunited with my family after several years of being apart, and I cannot say how thankful I am. I'm happily living my life with my wife, two boys, and service dog Riggs. I am not healed. I will never be fully healed; again, it is a process. But I have peace in my heart now. I have found my purpose. I realize I am not just a disabled Veteran. I am a husband, father, son, grandson, nephew, cousin, friend, uncle, neighbor, and, hopefully, grandfather one day. I am proud to be someone that can help a friend who is struggling.
WILL YOU HELP US MAKE A DIFFERENCE?
Please consider donating to help more Warriors. Your support today will help us continue to provide the life-changing programs that the improve mental health and wellbeing of veterans and prove critical to their long term success in life.