Recently, I've had many philosophical conversations about summer camp. I guess that shouldn't be a surprise because, since the beginning of December, I've been engaged in the single most important task of any camp director – recruiting and hiring the summer staff for our upcoming summer sessions! I'm here to tell you this year's crop of cabin counselors and activity staff are bright, focused, compassionate, and ready to take on the world.
The first thing I always tell an applicant at the start of their camp interview is that, as a camp director who has hired more than 1800 people over the last 22 years, there's one thing I know: the classic style of question-and-answer interviewing is a waste of time. I want to have a conversation to learn about how they approach life and why they want to be at camp this summer. My first question is some version of "Why is summer camp an important experience in the life of a child?" What I'm looking for when I ask that is what we hear most often when we poll campers for what it felt like to be part of our summer camp community. I'm looking for "Belonging."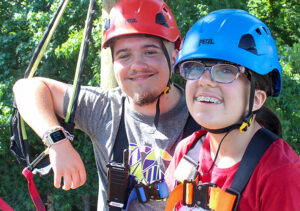 I want to know that the people we're hiring to create the magic moments here at Camp Southern Ground know what it feels like to truly belong, not to just fit in. Talking with our returning staff members is easier because they've already felt it. They say the exact quote we hear from the vast majority of our campers when we ask what they love most about being at camp. They all say "I love camp because when I'm there, I can just be myself." Finding a place of belonging, of true and full belonging, is unfortunately rare.
Social psychology suggests that belonging is something we feel a need for, like thirst or hunger, and that need motivates us to seek it out in our day-to-day lives. While I agree with this concept in theory, I am much more aligned with Abraham Maslow's view on belonging, which is that it is an ingredient in the recipe of becoming more fully human. Maslow's famous hierarchy of needs places belonging just above our biological needs (air, water, and food) and our needs for safety and security (shelter, medical care, resources). Love and belonging are placed there not as a nice thing to have, but as a necessary building block for the integrated person. Without love and belonging, we become disintegrated as people. Belonging allows us to integrate all parts of ourselves and the experiences of our lives, first finding belonging in a group so that we can eventually find belonging within ourselves.
So, back to my question above, "Why is summer camp an important experience in the life of a child?" Through the journey of a week at camp, a place of radical kinship and mutuality, a place of true belonging, we discover that we are worthy. Discovering that we are worthy is the key that unlocks our ability to walk into the rest of our lives with confidence, compassion, and character. Camp offers us the belonging that unlocks our becoming, which is the state we must attain to climb toward our potential as humans. When we have integrated into the core of our being that we are worthy of belonging at camp, then we realize that we are worthy of belonging anywhere and everywhere.
At Camp Southern Ground, we offer the "Inclusion Model" where we intentionally bring groups of kids together who find different barriers to their belonging, and we immerse them in their worthiness along with the worthiness of every single person. We sing and dance, we climb on the challenge course, we swim and ride bikes, and we feel all of our feelings. That's what happens. What happens after that is a beautiful becoming. We watch kids becoming friends for life, we watch kids build independence through exploration and play, and we watch children try new things with confidence and an increased level of self-efficacy. These are the reasons we exist.
Camp Southern Ground's mission statement ends with, "…to profoundly impact the world." That's why we send our children to camp, and specifically to Camp Southern Ground.